Back to category
ELA-009
Electronic warfare - 2022
The principles of electronic warfare
Deployment methods and emerging concepts
OBJECTIVE :
This course presents an overview of electronic warfare to enable learners to familiarize themselves with the different concepts regarding the attack and defense of electromagnetic detection, telecommunications and radionavigation systems.
COURSE DURATION AND TIMETABLE :
The course lasts 5 days (30 hours) and alternates between presentations and practical exercises.
GENERAL APPROACH :
An overview of the principles and methods that can be applied to the analysis of the operation of radio systems in electronic warfare environments, as well as to the design of electromagnetic intelligence equipment or countermeasures. Features related to the integration of such equipment for land, air, sea and even space applications are discussed. In particular, simplified attack/defense games illustrate how technological developments in the field of broadband microwave or fast digital circuits can alternately favor both sides.
PREREQUISITE :
Course level: Basic
This course is for engineers with basic knowledge of the operation of radio systems.
COURSE DIRECTOR(S) :
Florent CHRISTOPHE:
Emeritus Advisor, ONERA.
This course is offered in partnership with the SEE (Société de l'Électricité, de l'Électronique et des Technologies de l'information et de la communication or the Society of Electricity, Electronics and Information Technologies and Communication), a non-profit organization.
www.see.asso.fr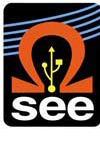 CONTENT :
Introduction and methods

Brief outline of the main areas: intelligence of electromagnetic origin (ESM, COMINT, ELINT, SIGINT); countermeasures (ECM) and counter-countermeasures (ECCM)
Examples for Land/Air/Sea
Liaison reports in the presence of countermeasures
Detection, goniometry, anti-jamming
The effects of the environment

GE radar

Radar signatures; RES modeling and measurement; radar stealth
Passive decoys
Active decoys
Jamming
Robustification against countermeasures
Principal technologies
Examples of attack/defense duels

The GE of telecommunications

Interception and location of emissions
LPI emissions
Jamming
Anti-jamming
Principal technologies
Examples of attack/defense duels

Recent developments

Overcoming radio-controlled improvised explosive devices (RC-IED)
High power microwaves (HPM)
Electronic warfare in space
WHEN AND WHERE :
Scheduled in French:
TOULOUSE: 14 to 18 November 2022
For the English realization, please, consult us.
COURSE FEES :
€2,320 excluding tax (20% VAT)
Dowload pdf
Print
Download registration form
Contact us